Climate change is a daunting and complex threat that can lead to distressing emotions, such as anxiety, depression, grief and hopelessness. Since climate change is a long-term threat, we must learn to cope with the potentially difficult emotions that it may cause to ensure our well-being over time. If we learn to manage these feelings, we can recognize them as signs of our compassion and connection to the world around us, and harness them as important motivators for taking action on climate change.
School psychologist Adam Hannibal describes the importance of striking a balance between recognizing these challenging feelings and channeling them into action. Hannibal explains his approach to working with young people in Winnipeg's inner-city: "I validate their worries, but I also point out that there's some encouraging research and a lot of solutions… and try to spur them on with some actions."
Strategies to Adapt to Climate-Related Distress
Mental health professionals suggest three types of strategies to adapt to our climate-related distress: strategies to work through our emotions; strategies to move to climate action; and strategies to help reframe the problem and find hope.[1][2]
1. Working through our Emotions
The first category of strategies aim to help us work through our difficult emotions around climate change. It is important to take some time to explore these emotions when they come up, either by writing in a personal journal or discussing them with people close to you. Exploring and naming emotions can be a difficult task but it is a key first step to help us work with them.
It is important to recognize these emotions are normal. Connecting with others who are feeling similarly can help us realize that we are not alone in this experience. We can also seek out online testimonies of people who have spoken up about their mental health challenges related to climate change (for example, see open letter written by 16 year old activist Lauren Wright). Social support from others helps us work through our emotions and feel less alone in these challenges.
When she's feeling anxious, youth climate activist Maria Farag reaches out to people in her life. "I know that there's so many other people feeling the exact same way that I feel," Farag explains. "So reaching out to those people often helps. Even if none of us have solutions, it's good to just talk it out and to be reassured."
Read More: Finding your climate community
There are certain groups and programs that exist throughout Canada to help people experiencing climate distress connect with others, such as:
Climate Cafés, hosted by groups such as the Canadian Climate Challenge[

3

]
Carbon Conversation Groups, such as this community group in Toronto[

4

]
Work That Reconnects Network[

5

]
Eco-anxious Stories[

6

]
You may want to explore whether some of these groups exist in your region, and there aren't any you might consider gathering members of your community to create one.[7][8] For a list of active Climate Hubs across Canada check out this website: http://climatehub.ca.
Another thing that can be helpful is to engage in what are known as "eco-therapy practices", such as spending more time outdoors (e.g., relaxing in the park, walking, skiing, gardening). Research shows that being outside in nature increases one's mood, concentration, and creativity, and even lowers stress.[9][10] Unfortunately, not everyone has equal access to the outdoors; in particular, racialized communities often have less time or opportunities to get into nature.[11] Creating and supporting opportunities for these communities is particularly important, to ensure the potential mental health benefits are accessible for all.
2. Taking Action on Climate Change
The second category of coping strategies encourage us to take action on the problem, to alleviate some of the difficult emotions and to provide us with a sense of agency in the face of a huge issue. Research shows that turning anxiety into action can be beneficial for our mental health. Seeing concrete changes from our actions can provide us with hope that we are able to adapt and be part of the solution. Of course, it is also important to recognize that the sole responsibility for solving climate change does not rest upon any individual's shoulders, and that each of us play a role in a larger movement towards the systemic changes needed.
"Action is probably the best remedy right now," says Hannibal. He recommends people "think about ways your family can take actions that will not only strengthen your family, because you're doing things together, but will give you a tangible sense that you're making a difference."
One can engage in both individual actions (such as biking instead of driving, eating more plant-based meals, and composting) as well as collective actions (such as joining a community environmental group, attending a climate rally, and participating in democratic systems). Of course, policy-makers, industry, and other decision-makers must be enacting changes in our larger systems, but it's important to remember that they can be influenced by societal pressures and movements led by people. By changing our behaviour and getting involved in larger movements, we can inspire others to do the same, leading to a ripple effect in our social network.
Read more: Building community through collective action
Lena Andres was one of the leaders of the student strike movement in Winnipeg, inspired by Greta Thunberg and the international movement 'Fridays for Future'. Andres explains that building community with the people she was organizing with improved her mental health and gave her courage.
"When I first started organizing, it was definitely from a place of fear and I was very stressed all the time about climate change," Andres said. "And then as I got more and more involved, I met some of the best people ever. One of my mentors said, 'people come for the cause but they stay for the relationships'. That really helped me realize why I stay. I still care about this issue, and it's the most important thing to me, but there are also people around me who are also fighting for this and I love them and I care for them and I can't imagine leaving them to do it by themselves."
Andres has been a very eloquent spokesperson and organizer, mobilizing young people in her community, and getting older generations to think carefully and critically about how intergenerational alliances and momentum can turn the tide on climate action. Young people, like Andres, are standing up in every country around the world, making their voices heard, and leading society in a positive direction to address climate change.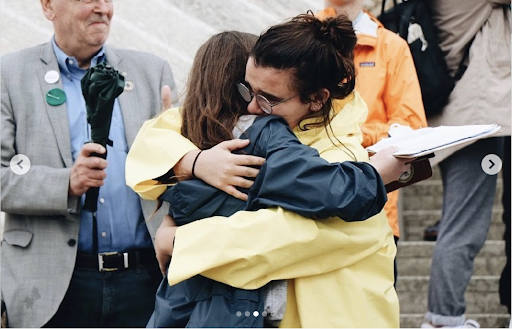 Youth climate activist Lena Andres and her co-organizer at the 2019 Global Climate Strike week of action in Winnipeg
One key action that we can engage in is having conversations with friends and family. Although these conversations can be difficult at first, they are required to help change social norms regarding the climate crisis.[12]
3. Reframing the Threat and Finding Hope
Finally, since the climate crisis is a long-term threat, we need to develop sustainable hope and resilience. This third category of coping strategies encourage us to reframe the climate crisis and to find an alternative meaning to this threat. It is important to find things that give us hope in the face of climate impacts. We can make a list of people, events, news, or other things that give us hope, put this list somewhere we will see it often, and revisit it regularly to add more examples.
Finding sources of hope is essential to counter what author Dr. Elin Kelsey describes as the "pervasive doom and gloom belief" about the environment, resulting from the negative framing of the problem in the media. In Kelseys book, Hope Matters, she advocates for the importance of "evidence-based hope", which takes a critical look at the problems we face as well as the trends and advances that are moving us through these problems.[13] "If we continue to reproduce feelings of hopelessness," Kelsey explains, "that's as big a problem as the problem [of climate change] itself."
Video: Dr. Elin Kelsey on Why Hope Matters
In this video, author Dr. Elin Kelsey explains the importance of being hopeful and offers tips on where to look for motivation in difficult times. For Kelsey, hope is a "brave political act" that requires courage and commitment in the face of uncertainty.
To reframe the threat, we can reflect on alternate meanings or positive consequences of the climate crisis. For example, we may focus on the fact that the climate crisis provides us with an opportunity to reimagine our desired future. In reimagining this desired future, it is important to describe it as concretely as possible. What do you see in this future? What do you hear? What do you feel? It is easier to remain motivated and hopeful when we have a clear vision of what makes us hopeful and what our end goal is.[14][15]
Another strategy that can help is to actively seek out solution-focused or positive news about the climate crisis (such as Anxiety-Free News or Good News Network: Good News, Inspiring, Positive Stories).There is a negative bias in the media coverage of climate change, which tends to be focused on the "doom and gloom", and it is easy to lose track of all the great solutions that already exist and that are developed daily. A lot of good is being done and it is important not to lose track of these initiatives.
Finally, we can think about co-benefits: solutions to the climate crisis are also good for human health and have a range of other benefits. This alternate meaning can provide us with long-term energy and motivation for climate action.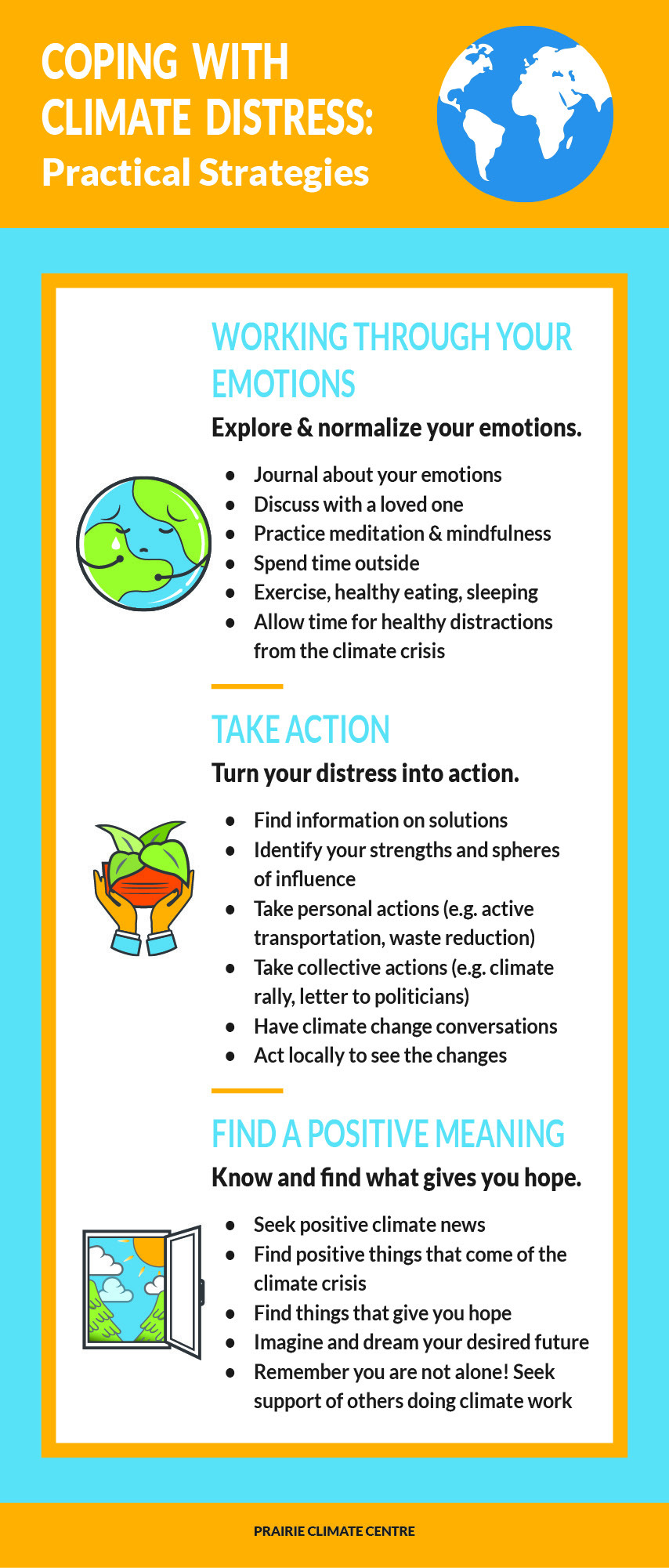 Strategies for coping with climate emotions
Read More: Reflection and Discussion Exercise
You may be wondering where to start in your own understanding of these mental health challenges. Here are a few questions which might be helpful for reflecting on your feelings and coping mechanisms, or discussing them with others:
How does climate change make you feel?
How do you cope with climate change-related distress?
What gives you hope for the future?
What are your calls to action for others?
If you are experiencing significant distress due to climate change, such as having trouble going about your daily life, it could be important to supplement these strategies with support from mental health professionals.
Conclusion
Although experiencing distressing emotions in response to climate change can feel incredibly challenging, we can learn to recognize that these feelings are normal and adaptive in response to such a threat, and can serve as powerful motivators for climate action. To maintain well-being in the face of this long-term threat, it is important to engage in coping strategies to work through these difficult emotions, including connecting with our feelings, using them to motivate us into action, and finding our sources of hope.
Importantly, know that you are not alone, and that whole communities of people are engaged and active on climate awareness and action. These networks are growing in their scope, influence, and impact and this individual and collective action is making a difference now and for future generations.
Further Reading
References
Ojala, M. (2012). Regulating worry, promoting hope: How do children, adolescents, and young adults cope with climate change? International Journal of Environmental & Science Education, 7(4), 537–561. http://www.ijese.com
Davenport, L. (2017). Emotional Resiliency in the Era of Climate Change: A Clinician's Guide. Jessica Kingsley Publishers.
Canadian Climate Challenge. "Our Climate Cafe" https://climatechallenge.ca/events-campaign/our-climate-cafe/
Carbon Conversation Toronto https://www.carbonconversationsto.com/
The Work that Reconnects Network. https://workthatreconnects.org/
Eco-anxious stories. https://www.ecoanxious.ca/
Greenleaf, A. T., Bryant, R. M., & Pollock, J. B. (2014). Nature-Based Counseling: Integrating the Healing Benefits of Nature Into Practice. International Journal for the Advancement of Counselling, 36(2), 162–174. https://doi.org/10.1007/s10447-013-9198-4.
Buzzell, L., & Chalquist, C. (2009). Ecotherapy: Healing with Nature in Mind (L. Buzzell & C. Chalquist (eds.)). Counterpoint.
Roy, Inori. (2021, July 24). Shaking up the stereotypes about Ontario's outdoors. The Narwhal. https://thenarwhal.ca/all-out-canada-ontario-outdoors
Geiger, N., Swim, J. K., & Fraser, J. (2017). Creating a climate for change: Interventions, efficacy and public discussion about climate change. Journal of Environmental Psychology, 51, 104–116. https://doi.org/10.1016/j.jenvp.2017.03.010
Kelsey, E. 2020. Hope Matters: Why Changing the Way We Think Is Critical to Solving the Environmental Crisis. Greystone Books. ISBN: 9781771647779
Homer-Dixon, T. (2020). Commanding Hope. Penguin Random House Canada.
Whyte, K. (2017). Indigenous Climate Change Studies: Indigenizing Futures, Decolonizing the Anthropocene. English Language Notes 55.1 (2017): 153-162.
Clayton, S. (2020). Climate anxiety: Psychological responses to climate change. Journal of Anxiety Disorders, 74, 102263. https://doi.org/10.1016/j.janxdis.2020.102263
Clayton, S., & Karazsia, B. T. (2020). Development and validation of a measure of climate change anxiety. Journal of Environmental Psychology, 69, 101434. https://doi.org/10.1016/j.jenvp.2020.101434