The Climate Atlas of Canada is an interactive tool for citizens, researchers, businesses, and community and political leaders to learn about climate change in Canada. The articles, maps, and videos in the atlas tell a compelling story: climate change is here, it's a serious challenge, and we can take action.
The atlas can help you make sense of climate change, and this guidebook will help you make sense of the atlas. First we'll explain how to find different kinds of information in the atlas. And then we'll give you some help figuring out what it all means.
Finding your way around
The home page of the atlas provides a high-level overview of climate change and some of its impacts. Each panel provides links to more detailed information (such as articles and videos) or special content (such as downloadable PDF reports). Just reading through the home page provides a snapshot of climate change as a serious global issue that affects each of us and our unique communities in specific ways.
Topics
Because climate change is so complex and far-reaching, it is helpful to break it down into manageable parts. The atlas does this by collecting different kinds of information into related topics, such as Cities, Agriculture, Forests, Take Action, and Climate Science.

The topic landing pages work a lot like the atlas' home page: each begins with a general introduction linked to a longer article that provides an overview about a particular aspect of climate change. Featured articles, videos, and other content are highlighted in the graphical panels, and then all available content in the topic is collected together further down on the page.
Articles
Every topic in the atlas is supported by plain-language articles that review our current scientific undestanding of the risks and impacts of climate change. These articles are supported by the voices and perspectives of researchers, industry professionals, and community leaders who are dealing with climate change on a daily basis. Where possible, these articles present real-world solutions to the consequences of climate change. 
If you like to learn by reading, head directly to our Articles landing page to find them all in one place.
Videos
The Climate Atlas features a growing collection of short documentary videos that help make local sense of the global issue of climate change. These videos have been developed through a unique combination of social science and participatory video techniques and are, in their own way, an important form of "data" about climate change in Canada.

These voices of lived experience provide personal perspectives that complement the climate projection data and help explain the reality and the importance of climate change in Canada. You'll find videos throughout the site: they appear on the map, they are an important part of each topic presentation, and all of them can be found on the Videos landing page.
Maps
These colourful maps allow you to explore what climate models say about future climate across the country and specifically where you live.
The Climate Atlas map works like most online maps: you can move around and zoom in and out. When you click somewhere on the map, a sidebar appears to display a summary of projected climate change for that location in the coming decades.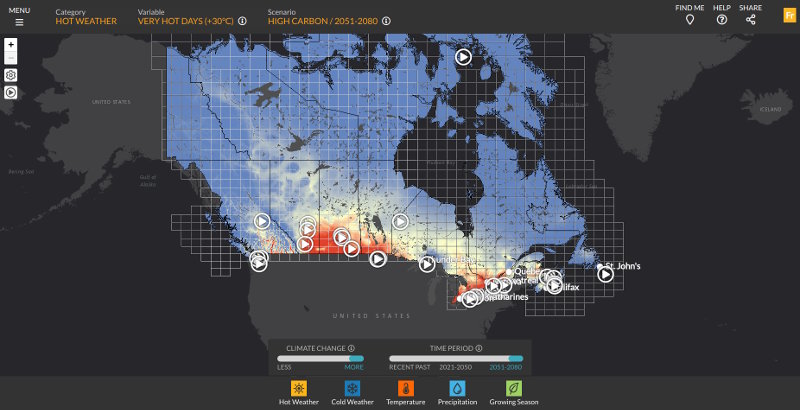 The map and sidebar are the best ways to quickly browse climate data and find information that's important to you and your community. Learn more about using the map in the next section of this guidebook, Using the map.
Find Local Data
You can also explore local climate data without using the map. In the main menu (found at the top left corner of the site), the Find Local Data item leads to a search page where you can choose to display data for:
Your current location;
Any of almost 500 cities and towns across Canada; or
Any region in Canada, using a convenient address or landmark search tool.
Each of these options takes you to the Local Data Page , where you can explore tables and graphs and even download data for any place in Canada.